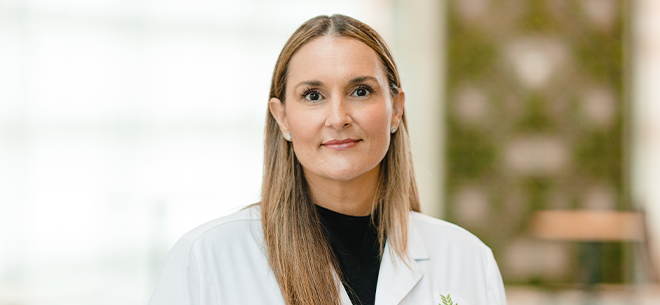 The value of hard work is not lost on Karen Gersch, MD. Dr. Gersch grew up on a small, North Carolina farm taking care of animals and living simply as a "country kid," enjoying all that comes with that moniker. Patients in northeast Georgia and beyond will now get to see that hard work firsthand, and ultimately benefit from it as Dr. Gersch joins the team at Georgia Heart Institute.
"I'm proud of being a country kid," Dr. Gersch said. "And as a surgeon, I bring all of my life experiences with me, which helps me provide better care to each and every patient. I can't stop suffering, but I can certainly do my part to reduce it."
Dr. Gersch is bringing her expertise in robotic heart and thoracic surgery to Northeast Georgia Health System, offering more access to quicker recoveries and smaller scars for patients seeking heart surgery. Dr. Gersch has known she wanted to be a surgeon since she was 8 years old. Her passion for the field comes from her older sister, who was born with a rare birth defect, resulting in her undergoing over 20 surgeries. Ultimately, her sister's right leg was amputated when she was 13.
"I remember my mom and dad teaching me how to take care of my sister," Dr. Gersch said. "I pushed her in her wheelchair, helped her with her crutches and eventually helped her learn how to walk on her prosthetic leg. That experience gave me the desire to help make people better and motivated me to become a physician." That passion for helping people and advocating for patients is part of what brought Dr. Gersch to Georgia Heart Institute.
"The group here really functions well as a team," Dr. Gersch said. "This entire program is focused on technology and improving the future of medicine in order to save lives."
Dr. Gersch joins Drs. Sloane Guy, Clifton Hastings, and Kyle Thompson at Northeast Georgia Physicians Group (NGPG) Cardiovascular & Thoracic Surgery.
"We're excited to welcome Dr. Gersch to the surgical team at NGPG, which is an integral part of Georgia Heart Institute," said Clifton Hastings, MD, medical director of NGPG Cardiovascular & Thoracic Surgery. "Her skills and experience in performing robotic bypass and thoracic surgeries ensure that we can offer comprehensive heart and thoracic surgical options all in one place and will prove invaluable to our patients."
To refer a patient to Dr. Gersch, providers can contact NGPG Cardiovascular & Thoracic Surgery at 770-212-3199 or by visiting www.nghs.com/heart/for-clinicians.