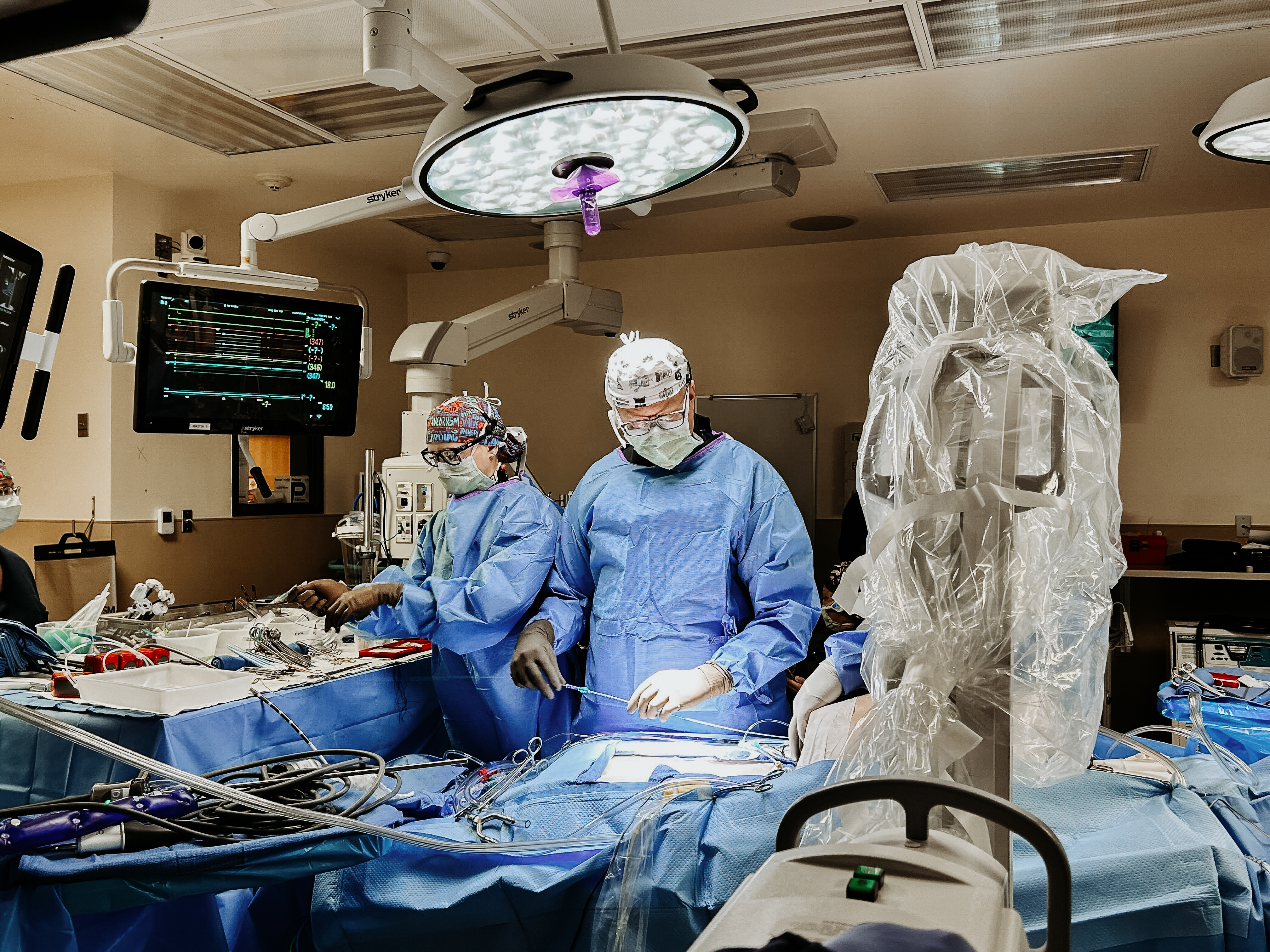 Heart surgeries that used to require long incisions and months of recovery can now be performed in Gainesville through tiny 8-millimeter incisions – about the diameter of an ink pen – with much faster recovery times. Georgia Heart Institute's surgeons at Northeast Georgia Physicians Group (NGPG) Cardiovascular & Thoracic Surgery are now offering minimally invasive, robotic heart surgery, giving patients in the area more access to much-needed, state-of-the-art procedures.
"I'm excited to announce that we performed our first robotic heart surgery last week at Northeast Georgia Medical Center (NGMC) in Gainesville," said T. Sloane Guy, MD, a robotic heart surgeon and the director of Minimally Invasive and Robotic Heart Surgery at NGPG. "The surgery went so well that Bill was able to leave the hospital just two days after the surgery, and he'll be able to fly home to Minnesota after his follow-up appointment this week."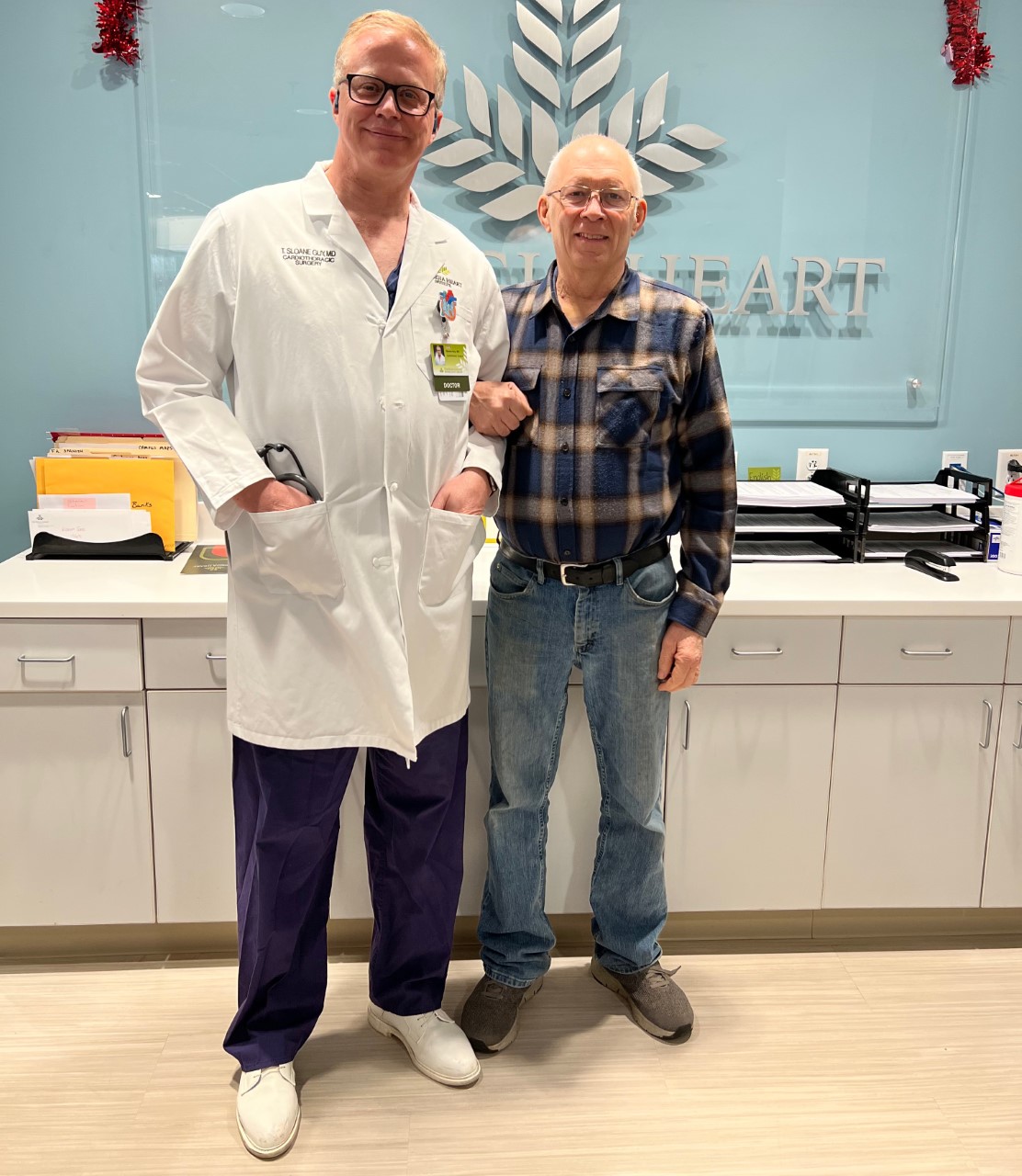 Bill Mayfield and his wife originally traveled to Georgia last month to visit their son, but Bill started to feel ill. He stopped by NGPG Urgent Care in Dahlonega, where the care team discovered a heart murmur. They quickly referred him to Dr. Guy at NGPG Cardiovascular & Thoracic Surgery.
Dr. Guy explained Bill needed heart surgery, there was a less invasive robotic surgery option, and he was an excellent candidate. Bill and his wife were optimistic but wanted to go back home to Minnesota to do a little research.
"I read that Dr. Guy was one of the best robotic heart surgeons in the country," recalled Bill. "It made the most sense for us to make the trip back down from Minnesota, and it was definitely worth it. Just two days after the surgery, I was leaving the hospital and feeling great. I can't believe what the team was able to do through these tiny incisions. I remember when my brother had open heart surgery, and this is a totally different experience."
NGPG Cardiovascular and Thoracic Surgery is an integral part of Georgia Heart Institute, Northeast Georgia Health System's (NGHS) comprehensive heart and vascular service line.
"Whether the surgery is done using a minimally invasive approach or an open approach, our primary goal is providing the best possible treatment plan and outcome for each individual patient," said Clifton Hastings, MD, medical director of NGPG Cardiovascular & Thoracic Surgery. "We're collaborating with the cardiologists of Georgia Heart Institute to coordinate care across specialties, providing patients a more seamless patient experience."
To refer a patient with NGPG Cardiovascular and Thoracic Surgery, call 770-230-5336. To refer a patient to one of Georgia Heart Institute's cardiologists, visit nghs.com/heart/connect or call 770-766-0011.
See all NGPG Cardiovascular & Thoracic Services