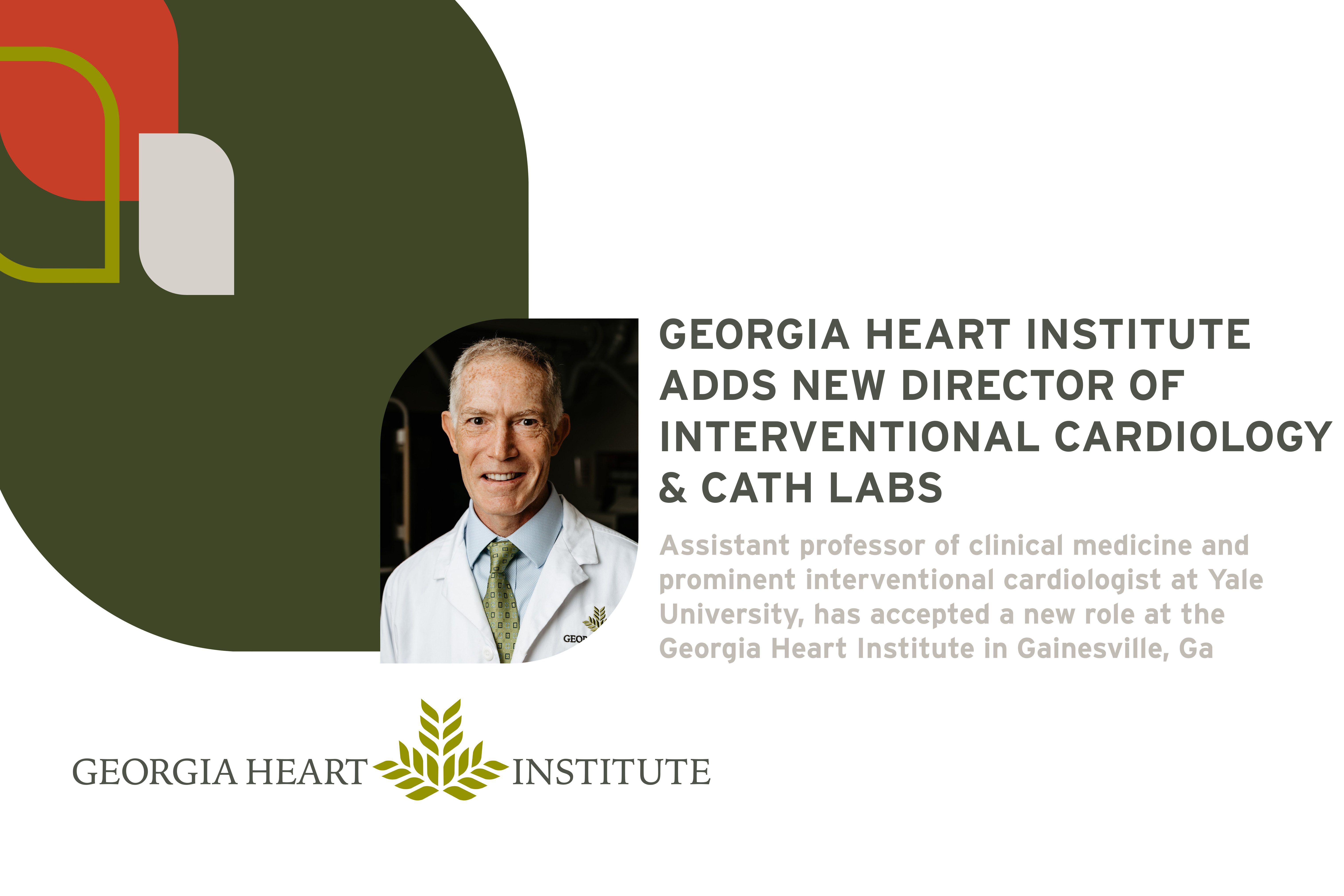 Glen A. Henry, MD, Assistant Professor of Clinical Medicine and prominent interventional cardiologist at Yale University, has accepted a new role at the Georgia Heart Institute in Gainesville, Ga. A faculty member since 1998, Dr. Henry served as the Director of Complex Coronary Interventions in the Interventional Cardiology Program at Yale.
In this new role, Dr. Henry joins a former trainee from the Yale interventional cardiology fellowship program, Habib Samady, MD, now president of the Georgia
Heart Institute. He assumes his new role as the Director of Interventional Cardiology and the Cardiac Cath Labs. We spoke with Dr. Henry to discuss his career and transition to the Georgia Heart Institute.
1. How did you get started in Interventional cardiology? And what drives your passion for this specialty?
- "I initially became interested in cardiology and interventional cardiology because I was fascinated by the hemodynamics and function of the cardiovascular system, specifically as it related to athletic endeavors. At the time treatment of coronary artery disease and heart attacks was in its early stages with balloon angioplasty and thrombolytics. Stents were in their infancy, with the first major stent trials being published as I started my fellowship. We then began treating heart attacks with stents, and treatment for stable coronary disease had better long-term success. We did good things to help people feel better, and sometimes even save some lives. My main interest is in complex coronary disease and all the things that we can do now to help patients feel better that we could not do even ten years ago. The basic simple premise of medicine is two things: feel better and live longer. We're able to do both of those things in interventional cardiology."
2. How does interventional cardiology differ from general cardiology? Which patients should seek consultation with an interventional cardiologist?
- "We are all cardiologists by training, so we are all general cardiologists in a sense. The diagnosis and treatment of cardiovascular disease, and I should also add the prevention of disease there. Too much of medicine is focused too late in the disease process. All cardiologists typically have areas of interest. There are noninvasive cardiologists whose interest might be in imaging or prevention. Electrophysiologists study and treat the electrical conduction system and arrhythmias such as atrial fibrillation. As interventional cardiologists we are interested in treating cardiac and vascular conditions in a minimally invasive nonsurgical way. This typically involves placing an intravenous and/or intraarterial sheath (IV) through the skin allowing passage of equipment through the blood vessels to the desired location. The demand for interventional cardiology is increasing as the population ages. Most cardiovascular disease is the summation of many years of strain on the system, ultimately with adverse adaptive responses. Modifying the strain in these early years is the premise for preventive cardiology. One of the most important "interventions" we can make following the procedure is modifying the patient's risk factors to decrease the likelihood of a recurrent event or return procedure. The goal of a procedure is to help the patient enjoy life better.
Interventional Cardiology tends to be very collaborative within the subspecialty itself, across cardiology, and with cardiac and vascular surgeons. Our referrals are mostly from other cardiologists and other interventional cardiologists. We also collaborate with cardiac surgeons to find the best plan for a successful outcome, sometimes combining procedures from both fields. And of course, especially in the modern media age, many patients are self-referred.
3. In your opinion what are the most significant advances in interventional cardiology over the last 10-20 years?
- "I am going to stick with the treatment of coronary artery disease. There is a subspecialty of structural cardiology that can do amazing things with a list of tremendous accomplishments over the last decade. Regarding coronary interventions, I think there are two areas that have evolved simultaneously: the assessment of coronary stenosis and the treatment. The assessment of lesions with imaging and physiology has greatly improved on the very blunt tool of coronary angiography, directing us which lesions should be intervened upon and which should be left, and how best to intervene. This has led to improved short and long-term outcomes. The most significant improvement in outcomes in the last several years has come from the use of intracoronary imaging. The improved treatment of coronary stenoses has two areas evolving in parallel: stents and anticoagulants. We now have a group of stents that are state-of-the-art and the likelihood of a large improvement in clinical outcomes from where we stand now is small, but not zero. The medications and algorithms used to prevent clot formation induced by the procedure have evolved in parallel to minimize both competing risks of clotting and bleeding. It is called DAPT - dual antiplatelet therapy. I am proud to say the use of intracoronary imaging here (at Georgia Heart Institute) hovers around 90% compared to the national average of around 20%.
4. Are there any emerging trends, therapies, or clinical trials in interventional cardiology that you are excited about?
- "All of them! If I were to pick out one area, I would be ignoring countless others. There are new technologies, new ways of using existing equipment, new medications, and ongoing research being translated to clinical applications. The gold standard is continually evolving. It's unbelievable the new technology that has been made, and there will be more in the future. We are currently involved in over 30 studies and trials at Georgia Heart Institute.
5. What drove your decision to join Georgia Heart Institute?
- "It was serendipity. I wasn't looking to leave Yale. Habib Samady and I were cardiology fellows together at Yale in the late 90s. We reconnected through a mutual friend and had a conversation regarding the position here. He asked me to come down and take a look. It's a great place, with wonderful patient care, the administration is incredibly supportive, and the goals of the institution and physicians are in alignment. It's a setup for success. There are good people here, and it works. There is a very strong commitment to supporting the community. It's getting bigger with new people, new ideas, new technologies, and new ways of taking care of patients. It's very exciting.
6. What are you looking forward to the most as you take on this role at Georgia Heart Institute?
- "Growth. There are great people already here, and there are other great people coming in. The mindset here is to take the best possible care of patients. The pillars of the hospital system are compassion, stewardship, interdependence, and a passion for excellence.
7. What do you want referring providers or even students who may be potential physicians at Northeast Georgia Health System to know about interventional cardiology at Georgia Heart Institute?
- "We are focused on the best possible care of patients and are always trying to get better. We have the latest procedures here, and we do them well. There are good thinkers here about how to make things more efficient, safer, and easier for patients. Those are very good reasons to come here.