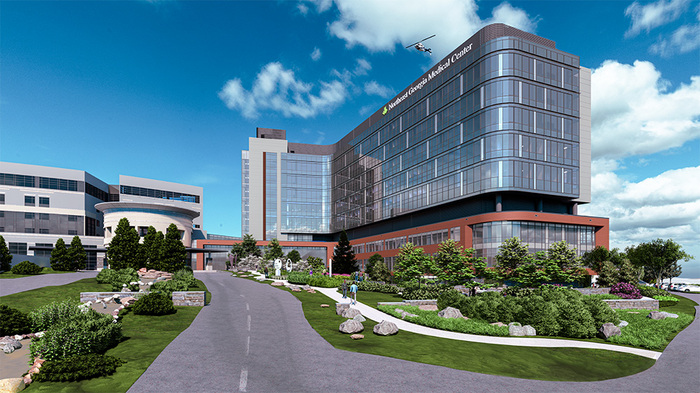 NGMC Gainesville and Georgia Heart Institute officials provided an outlook last Friday on the incredible technology that will be utilized in the new patient tower.
Northeast Georgia Medical Center Gainesville will soon have a completed patient tower on the northeastern end of the property, hosting many new resources and amenities for employees and patients. With 11 planned levels, an added energy facility and a new parking deck, the hospital hopes to more effectively serve the community.
Interventional Cardiologist and President of the Georgia Heart Institute Dr. Habib Samady shared what the future will hold for several departments within the new tower. The primary area that will see the most benefits from advancing technology are the surgical wards.
"There is going to be a lot of new technology, we are working on that path today," Samady said. "So for instance, we are hiring some world-class robotic heart surgeons, who will be able to perform valve surgery without cutting the chest open this way, through robots and minimally invasive ports. Obviously, with the new tower, it really offers us huge opportunities to kind of expand that service to have the space and the technology to deliver on that. But we're really, really excited as to what that means for our patients."
Samady reiterated that one of the leading causes of death in the country, let alone in the state and community, is heart failure. With the advent of groundbreaking technology within the new building, Samady reports they will have the ability to surgically fix weak heart muscles with small, percutaneous clips.
"That's really, really cutting-edge technology and we really hope to be one of the top centers in the southeast with our capabilities," Samady said.
Additionally, the new tower will house state-of-the-art operating rooms, cardiac catheterization laboratories and hybrid catheterization laboratories, allowing experts from several different departments to come together and provide patient care.
One of the newest doctors NGMC has hired is heart surgeon Dr. Thomas Sloane Guy, who will be heading the cardiac robotics program. Samady said the primary focus of robotic surgery is to have precise operations that are minimally invasive, performing the operation through a keyhole so the patient's body doesn't experience the trauma.
"If you have today an open heart surgery for a valve procedure, like a mitral valve repair, usually the patient spends five to seven days in the hospital, they have their chest cracked open," Samady said. "Whereas with the new approach, with robotics and some of these experts, it will be like a two-day hospital stay with no chest cracking open and up and [you're] about."
Surgical robotics is an avenue that positively impacts many other areas of a patient's health, as well as their wallet. Oftentimes, the most expensive part of health procedures is the time spent using a hospital bed. Samady said this factor is further complicated due to the fact that the longer a patient stays in the hospital, the more likely they are to develop more health issues, cycling back into staying longer at the hospital. With minimally invasive surgical routines, doctors are able to send the patient home much sooner and have a lower readmission rate.
Executive Director of Cardiac and Neuroscience Nursing Services Darlene Sweet is working with hospital officials to ensure the tower is ready for patient use on day one. According to Sweet, there are 96 beds in her care, 48 of which are designated for critical care patients. 24 of the beds are for heart failure and the remaining 24 are for intermediate care.
"So what we're doing right now is we're starting to cohort our patients in our current facility so that we can get ready for the new layout that we'll have here in the new tower," Sweet said. "[During] COVID, our patients were not all in the same unit together … so post COVID, now we're able to kind of re-cohort our patients, work back on our specialty care and get all of our cardiology patients together under one unit."
Sweet reports that having all patients with similar ailments under one unit in the new tower will allow her and the nursing staff to provide optimal care in a timely manner.
Another aspect that plays into the level of care is nurse training. Sweet said they have begun training with cardiac-focused nurses. Part of this training is overviewing equipment.
"So we have started a new education program for all of our cardiac nurses, we have started working on equipment," Sweet said. "So determining which equipment we want to buy, having that futuristic mindset. So what do we need in two years, not what do we need today, so that when we come in, we're at the state-of-the-art technology, not two years behind."
Sweet emphasized how decisions made by doctors and site plan designers are informed by all members of the nursing staff.
"So bringing those bedside nurses to the table and having them be part of the decision-making," Sweet said. "So that when we're designing a patient room, we're keeping everyone and their thoughts kind of in check, so that if there's something right now that doesn't work in our current state, we don't want to carry that over in the new tower. We want to make it better. And who knows better than the bedside nurses?"
In tandem with the construction of the new patient tower, the Georgia Heart Institute at NGMC is currently pushing for a Cardiac Center of Excellence certification. The award is achieved by being certified in three out of four important cardiac programs: chest pain program certification, heart failure program certification, extracorporeal life support program certification and ventricular assist device program credentialing.
"And at the core of it is giving back to our community," Samady said. "And I think that we never forget that, and one of the things Darlene [Sweet] said, which really rings true is really engaging the frontline staff, whether it's the nurses or technologists, the social workers, the pharmacists, you know, everybody, but then most importantly, going to our patients and their families and understanding how we can augment that experience."
Officials said they plan to host a ribbon cutting and have the new patient tower up and running by Jan. 2025.