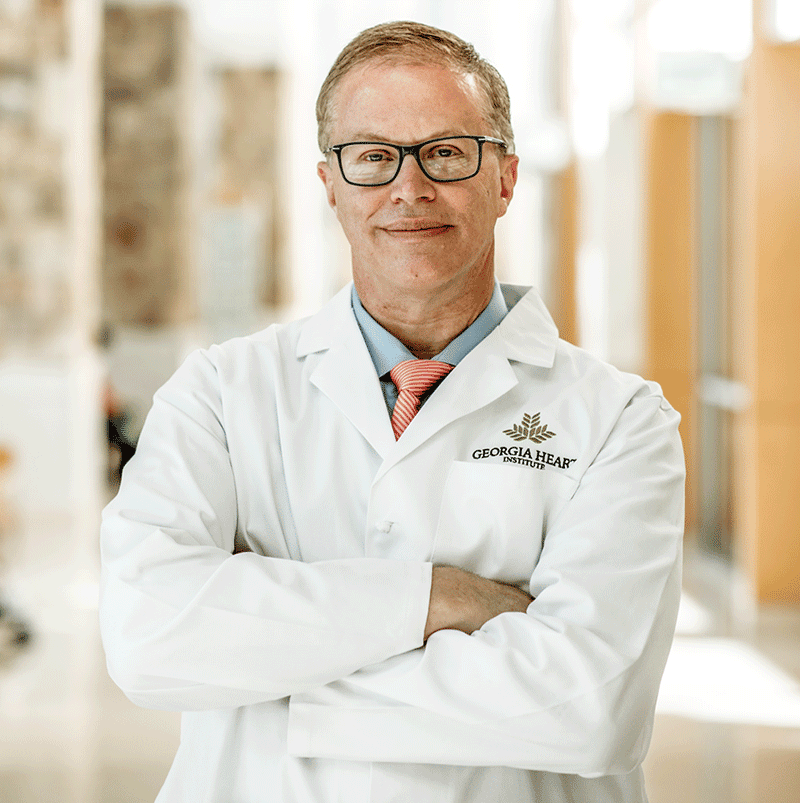 Whether it's saving lives on a battlefield in Iraq, walking on to a Division 1 college football team, completing medical school in the Ivy League, training to be an instrument-rated pilot, perfecting robotic heart surgery techniques or helping train other surgeons in operating rooms across the nation – Sloane Guy, MD, has spent the past three decades striving to be the best and be of service.
Now, life has brought him to Northeast Georgia Physicians Group (NGPG) Cardiovascular & Thoracic Surgery and Georgia Heart Institute in Gainesville. He'll be the first-ever robotic heart surgeon to perform surgeries at Northeast Georgia Medical Center Gainesville when he arrives in early November.
"Dr. Guy brings a unique skill set to our already-talented group of heart surgeons," said Clifton Hastings, MD, interim medical director of NGPG Cardiovascular & Thoracic Surgery, which is part of Georgia Heart Institute. "We're excited to see how innovative, robotic heart surgery procedures can continue our mission of improving the health of the community."
Dr. Guy grew up in North Carolina, then earned an Army ROTC scholarship to complete his undergraduate degree at Wake Forest University. Not only did he graduate on time and fulfill his duties as a cadet, he also somehow found time to walk on to the football team as a wide receiver.
"I was privileged to play for Coach Bill Dooley, who was the brother of University of Georgia's legendary coach Vince Dooley," Dr. Guy said. "We may not have won a national championship like Vince did at UGA, but Bill taught me a ton about dedication and teamwork."
The next leg of his journey took him to the University of Pennsylvania, where he earned his medical degree and completed his residency and fellowship at the university's health system – called Penn Medicine. Dr. Guy then went on to work at Walter Reed National Military Medical Center and eventually served three tours as an active-duty U.S. Army trauma surgeon — twice in
Afghanistan and once in Iraq. He received a Bronze Star Medal and many other combat awards during his service.
"The U.S. Army was another place I learned the value of teamwork," Dr. Guy said. "We had to work together in stressful situations to effectively care for American soldiers. I couldn't do what I do today without the experience I gained while serving our country."
After finishing his time in the service, Dr. Guy cared for patients at renowned healthcare organizations, including Temple University Health System, Weill Cornell Medical Center and Thomas Jefferson University Hospital.
He's also an award-winning physician, having been named a "Top Doc" by Philadelphia magazine and U.S. News & World Report. Now, he is bringing that expert care to the northeast Georgia community.
Dr. Guy has focused his surgical skills specifically on mitral valve repairs. He prides himself on performing the procedure, which fixes a leaky or stiff mitral valve in the heart, in the least invasive way possible – something that's hard for other surgeons to achieve because of the commitment it takes to learn.
"I'm looking forward to caring for patients in the northeast Georgia area and providing them advanced care close to home," said Dr. Guy, who trained in robotic heart surgery at Emory Saint Joseph's Hospital in Atlanta. "The robotic heart surgeries I perform can use incisions that are only eight millimeters long – about the diameter of an ink pen. This means faster recoveries and smaller scars for patients when compared to open heart surgery where an incision might be eight to 10 inches long."
"Dr. Guy is joining an impressive group of surgeons with Drs. Jason Budde, Kyle Thompson and Clifton Hastings – and we're looking forward to welcoming him to our team," said Habib Samady, MD, interventional cardiologist and president of Georgia Heart Institute. "Together with our exceptional cardiology services, our heart surgery program has built the foundation of cardiovascular care in this part of the state. Adding world-class robotic heart surgery to our cardiovascular surgery practice offers our patients the full spectrum of heart care and further distinguishes Georgia Heart Institute as a regional and national destination for cardiovascular care."
NGPG Cardiovascular & Thoracic surgery and Georgia Heart Institute work together to create a seamless approach that allows patients to receive a broad spectrum of cardiovascular care, from general cardiology to complex surgeries and procedures.
Robotic heart surgery will be available at Georgia Heart Institute in early 2023. Patients can schedule an appointment with Dr. Guy by contacting NGPG Cardiovascular & Thoracic Surgery at 770-230-5336 or by visiting georgiaheartinstitute.org/guy.
About Georgia Heart Institute
Georgia Heart Institute is the most forward-thinking heart and vascular program in the state and includes one of the largest cardiology practices in the region, including more than 80 practitioners seeing patients at more than a dozen locations. With a multi-disciplinary team of experts treating nearly every type of heart and vascular disease and participating in leading national research, we're providing advanced care that ensures lasting heart health for generations. Request an appointment and learn more at www.georgiaheartinstitute.org.
The experts of Georgia Heart Institute also form the core of the cardiac care team at Northeast Georgia Medical Center's four hospitals in Gainesville, Braselton, Winder and Dahlonega. It's all part of Northeast Georgia Health System, a non-profit which serves more than 1 million people across the region. Learn more at www.nghs.com.
About Northeast Georgia Physicians Group
Northeast Georgia Physicians Group (NGPG) brings together over 650 talented physicians, physician assistants, nurse practitioners, midwives and other clinical staff at more than 95 locations across North Georgia. As the state's sixth-largest physician group, we always have a practice nearby to offer you expert care in more than 40 specialties. See the full list of specialties and locations – and meet our providers – at www.ngpg.org.
NGPG is affiliated with Northeast Georgia Health System (NGHS), a non-profit which serves more than 1 million people in 19 counties across the region. As part of NGHS, patients of NGPG have a direct connection to Northeast Georgia Medical Center's four hospitals in Gainesville, Braselton, Winder and Dahlonega. Learn more at www.nghs.com.